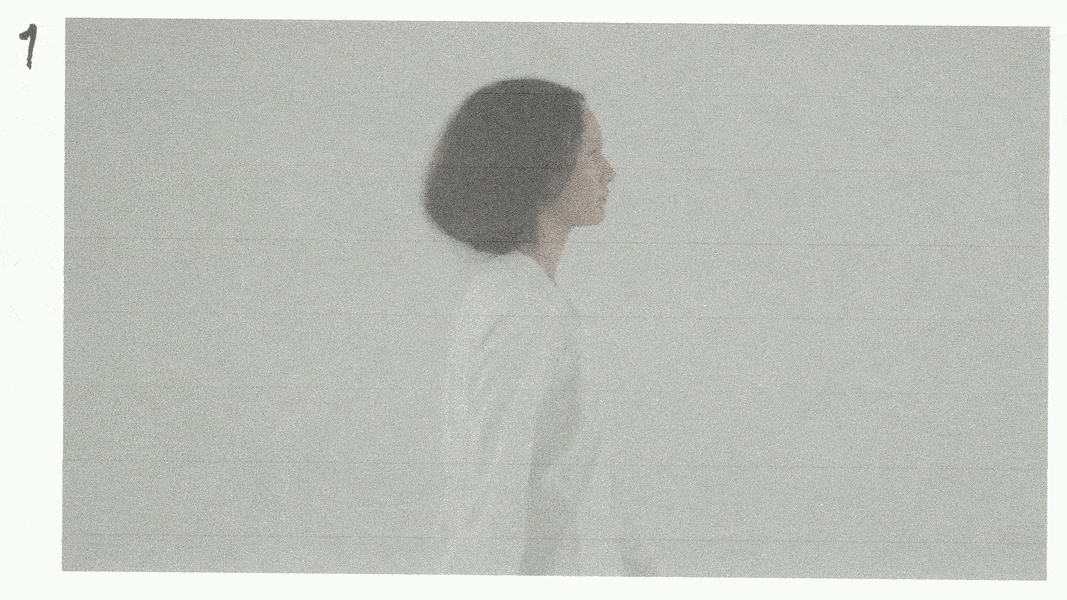 17.5.2023
in Sammiosali, Lahti
24.5.2023
in Makasiini L3, Helsinki
KOE Fashion Show is an annual event showcasing the creations of young designers from LAB Institute of Design and Fine Arts. KOE23 presents the graduate collections of twelve designers with their own vision and research behind their designs.
Collections seen on the KOE23 runway are an intriguing mixture of conceptual and conscious design as well as new perspectives of traditional handcraft techniques. Above all KOE Fashion Show brings forward innovative collections and driven designers of the future.
KOE23 also presents Zero Waste looks and concept collections designed by second and third year students.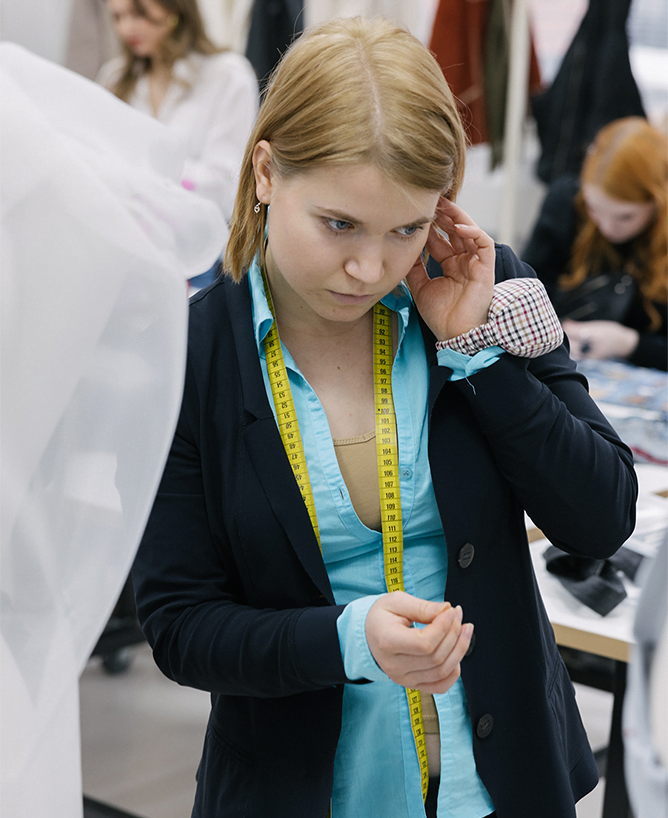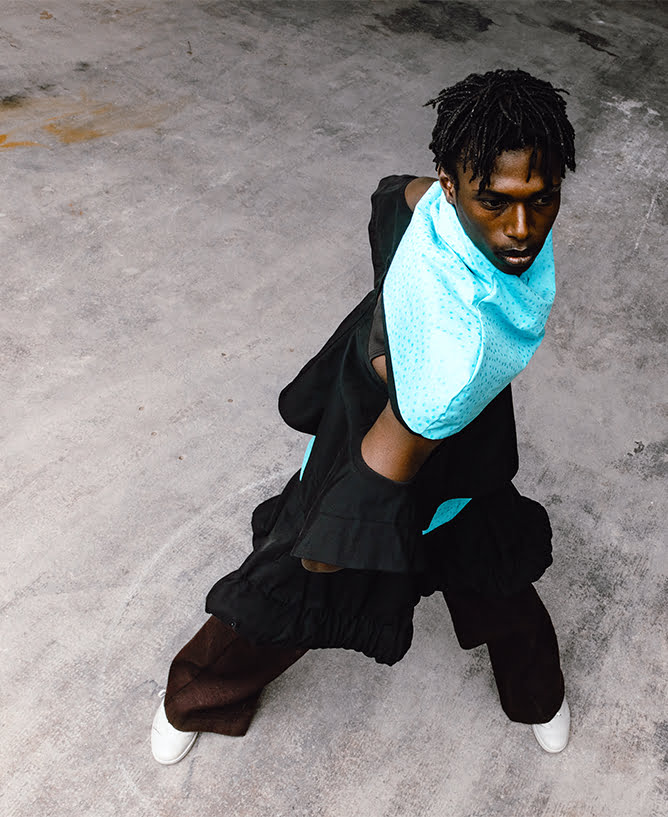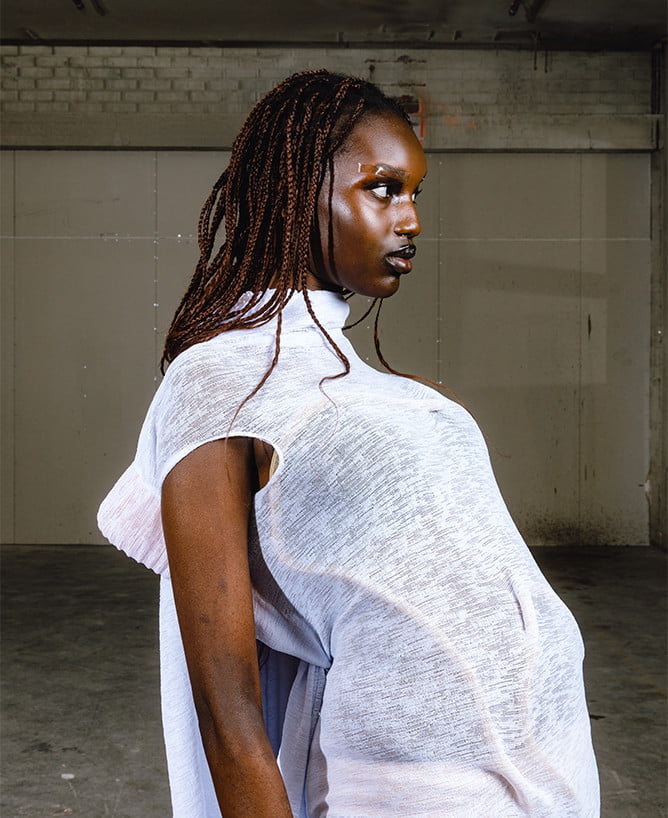 Hilma Heinonen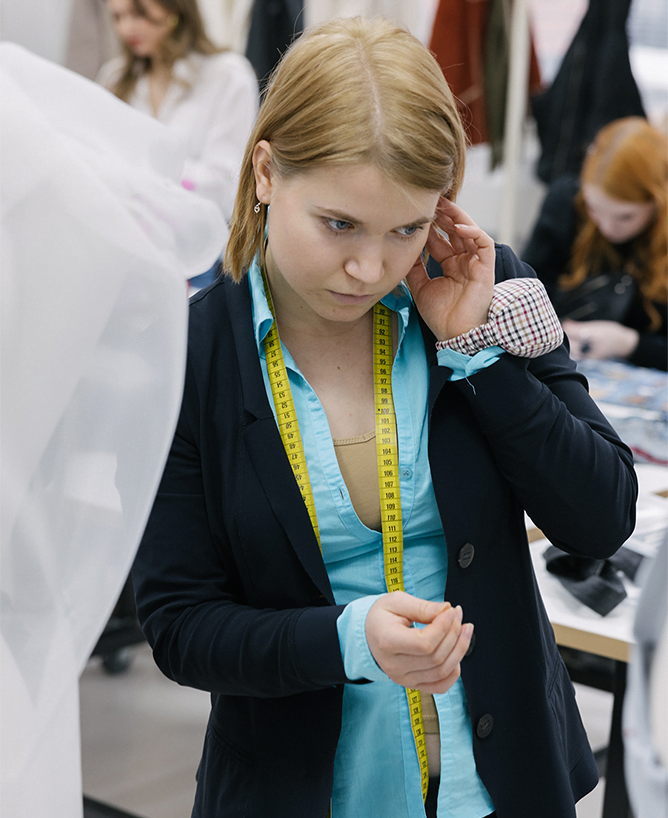 HilmaEditorial_1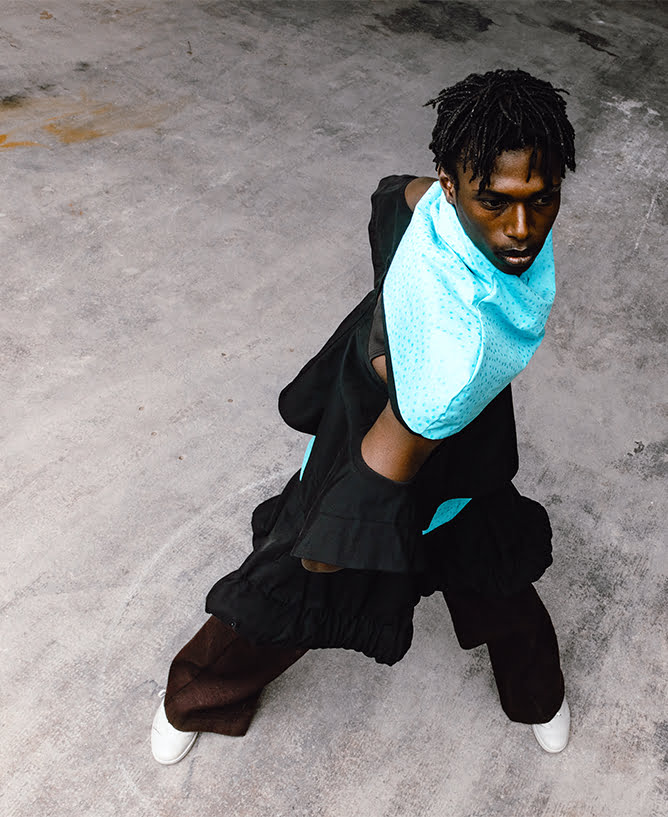 HilmaEditorial_2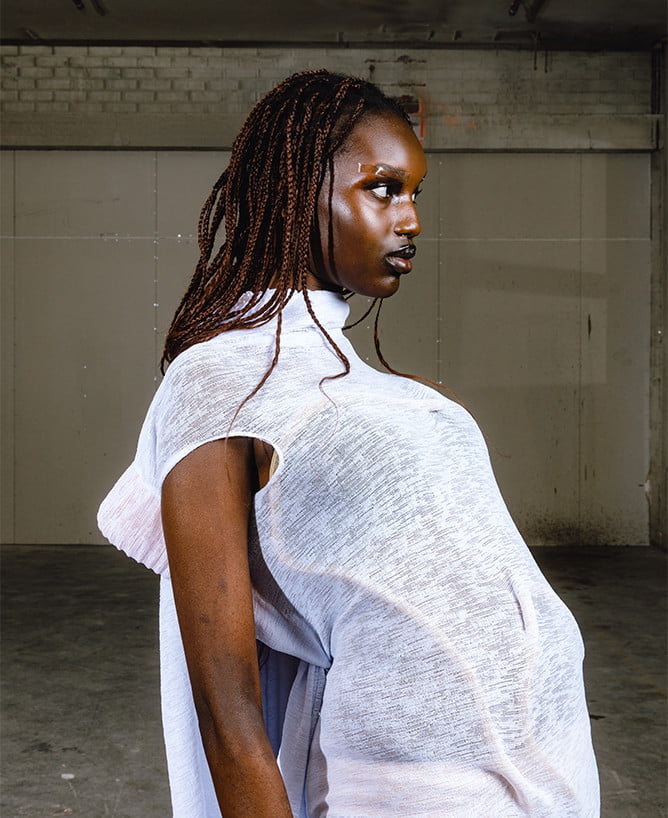 Hilma Heinonen
Peittelen mut
Hilma Heinonen's thesis focuses on what individuals refuse to expose from their experiences and bodies and how to unmask it through wearable design. She interviewed seven young adults, and based on those results, she created a collection Peittelen mut including themes such as vulnerability, psychological pain, and abnormality. 
Her design process is based on finding uniqueness through trying and testing while being inspired by complexity. As an idealistic person, Hilma works meaningfully and thoughtfully to create something with a positive impact while thinking we shouldn't create anything if it doesn't aim for making things better on our planet. It is also puzzling how insecurities affect consumption. With her collection, she hopes to challenge and arouse thoughts. How abnormal is abnormality? Mieti ny. And why is it frightening to be who we are?
The key parts in Hilma's design are shapes which leads to favouring draping as a designing method as well as approaching and finding new ideas. You can also find a touch of playfulness and functionality in her work.
heinonenhilma@gmail.com | @hilmaheinonen
Photo: Noora Nilsén
Models: Bagge Sene & Angelina John
MUAH: Roosa Leino
Hanna Vuorela, a graduating fashion designer, describes herself as a wearable sculptor. In her thesis work, she studied clothes as design pieces. She looked at how to approach fashion design from an abnormal perspective, not designing clothes. Her work is based on getting loose from the ways we are used to.
The key elements in Hanna's design are sculpting shapes by using draping and mixing other methods. The thesis collection is based on sculpting the garment on a human figure. She was rethinking the limits of our body by shaping it in a movement and bringing that into the design.
Hanna desires to see garments more as design objects. She wants to draw attention to how we see clothes and bring them up as more valuable pieces, not just something passing by. Her work is in between design and usability. She asks; What garment could be if it is taken out of the legalities of the clothing?
Photo: Amy Gent @amygent
Model: Isabella Mansnerus @isabellamansnerus
Muah: Jasmiina Walters @jasmiinamua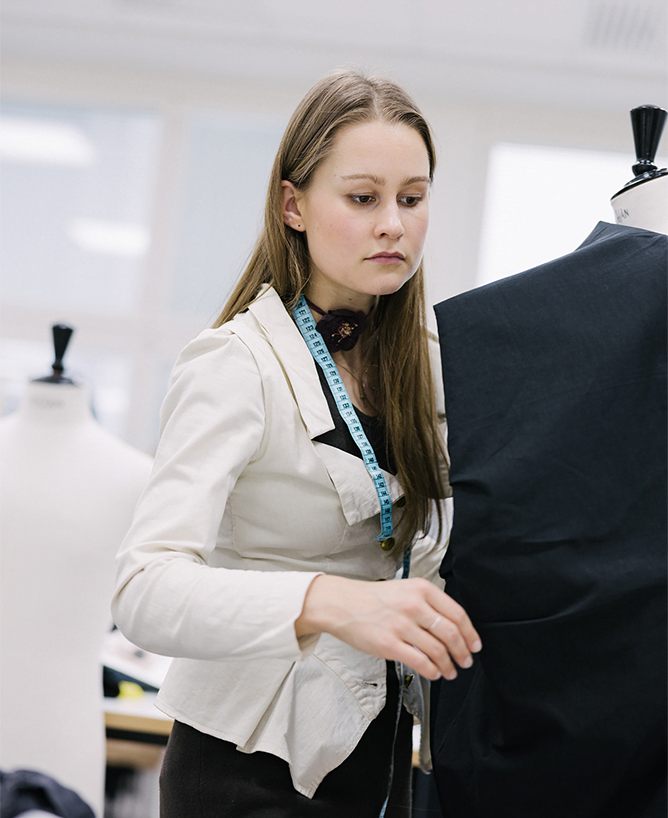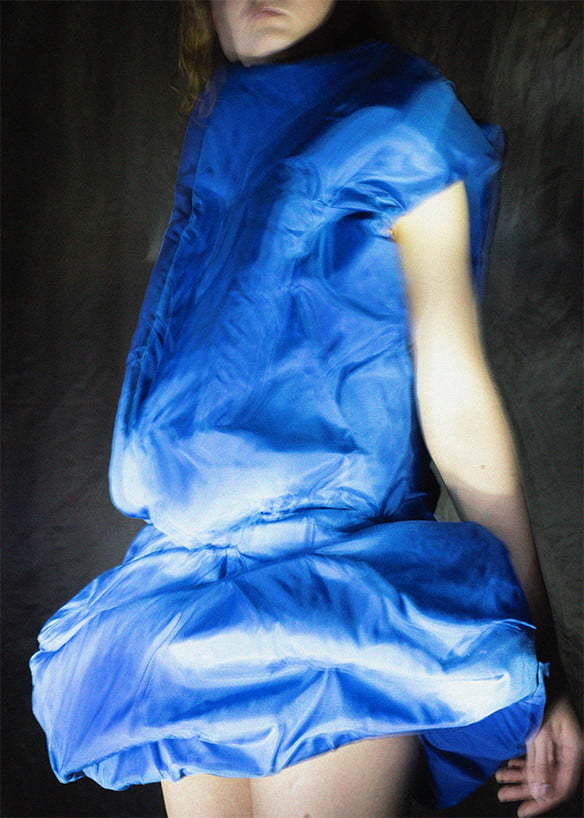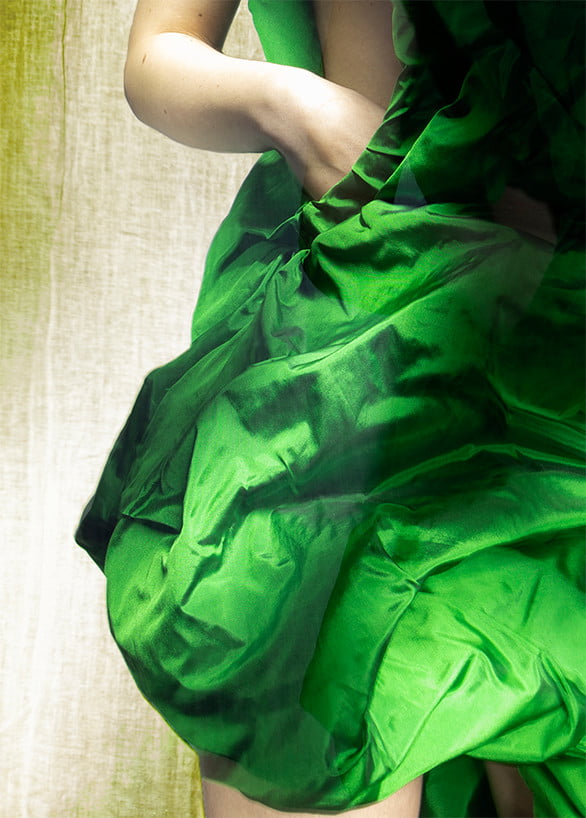 Hanna Vuorela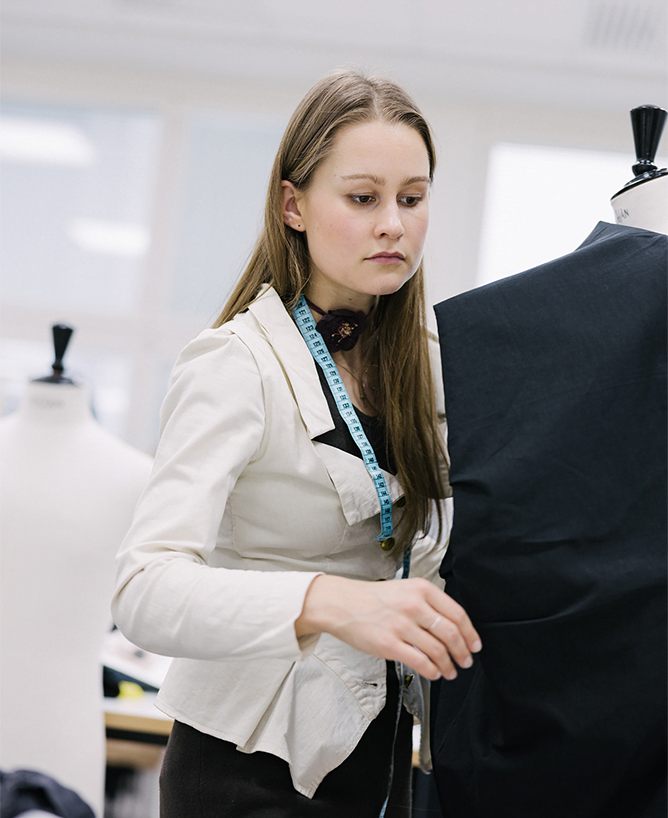 HilmaEditorial_1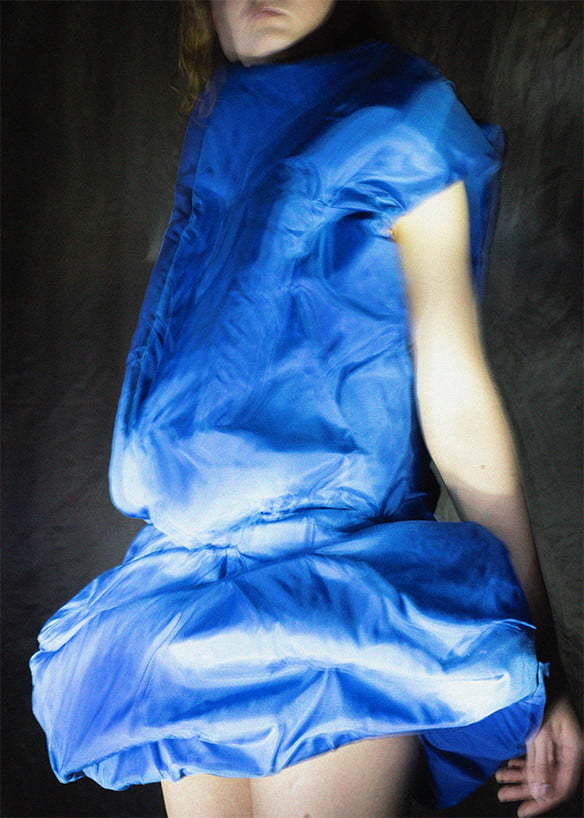 HilmaEditorial_2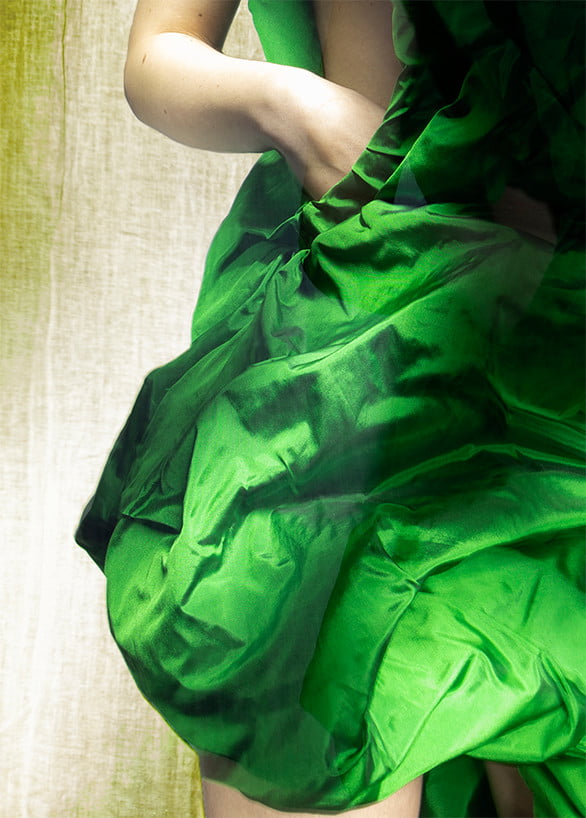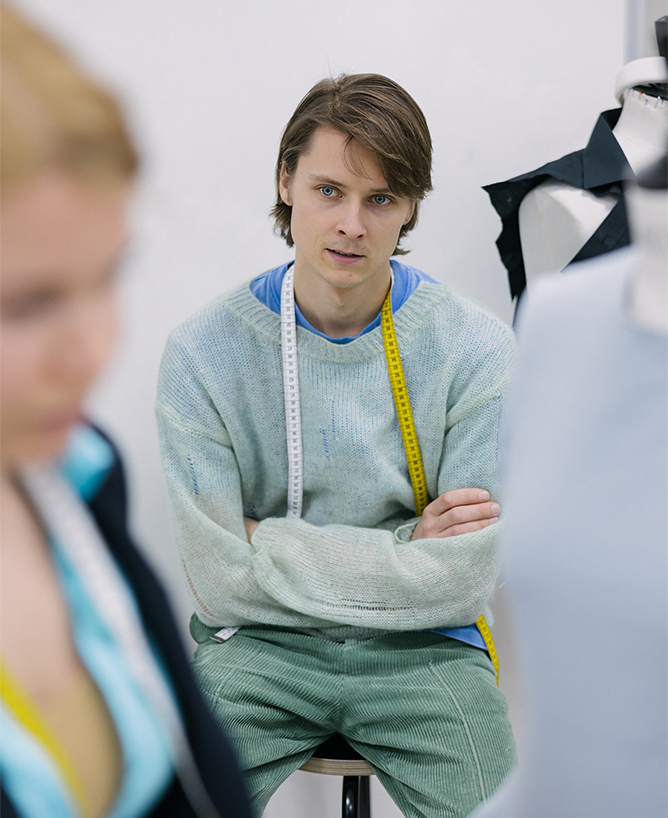 JuusoRantalankila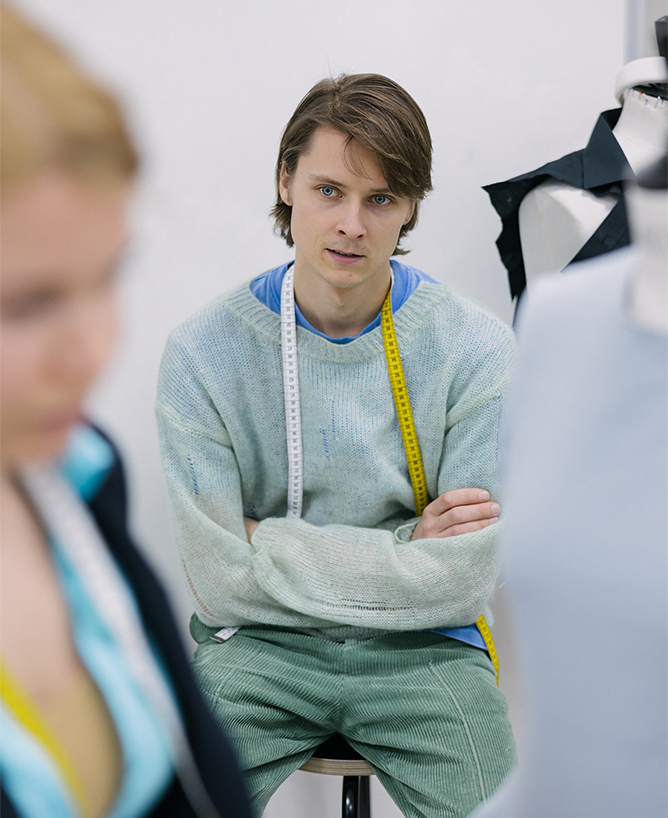 Juuso Rantalankila
The Anatomy of a Marriage
In this collection, Juuso Rantalankila studies the abnormality of weddings as an event, from the cultural, ethical, sustainable, and financial points of view.
Wedding clothing is often worn once, and they are made from large amounts of high-quality fabrics with hefty price tags. People usually store their wedding dresses for life, only to keep them in their closets for never to see the light of day again.
Some of the questions Juuso asked himself when designing this collection were, what defines wedding clothing, where is the line of recognizability for them and how could they be designed in a way that they have more than one time of usage.
j.rantalankila@gmail.com | @juuso.png
Sofia Skippari
Metamorphosis
In her thesis, Sofia Skippari investigates how sportswear can be transformed into a fashion piece. She investigates the key features of sports and party wear. Sport and the different features of party wear come together in Sofia's thesis collection "Metamorphosis". The collection is made using upcycling technology from old sports clothing received from Luhta.
As a designer, Sofia is inspired by the world around her. She wants to combine feminine and masculine elements. Sofia wants to design long-lasting clothes that are made with the environment in mind. She feels that the material's origin does not define the garment's appearance. She is interested in the deeper meanings behind clothes. As a designer, Sofia wants to use clothes to tell a story of her own inner world.
sofia.skippari@gmail.com | @skipparisofia | @sofia.skippari
Yhteistyö: Luhta
Photographer: Valtteri Haverinen @valtterijuho
Model: Viivi Juusola @viivijuusola
Muah: Minja's Beauty @minjasbeauty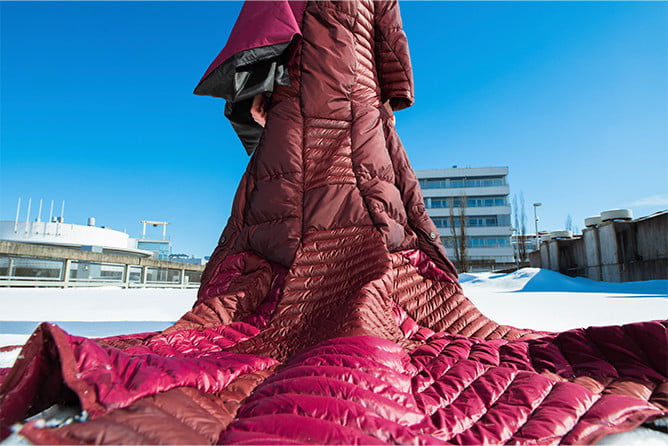 4.SofiaSkippari
SofiaSkippari-editorial1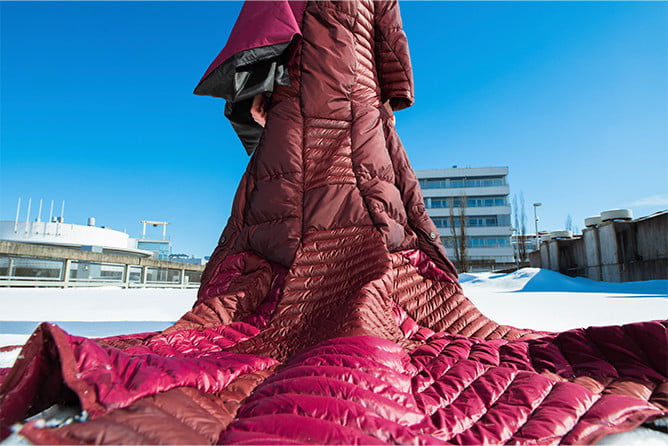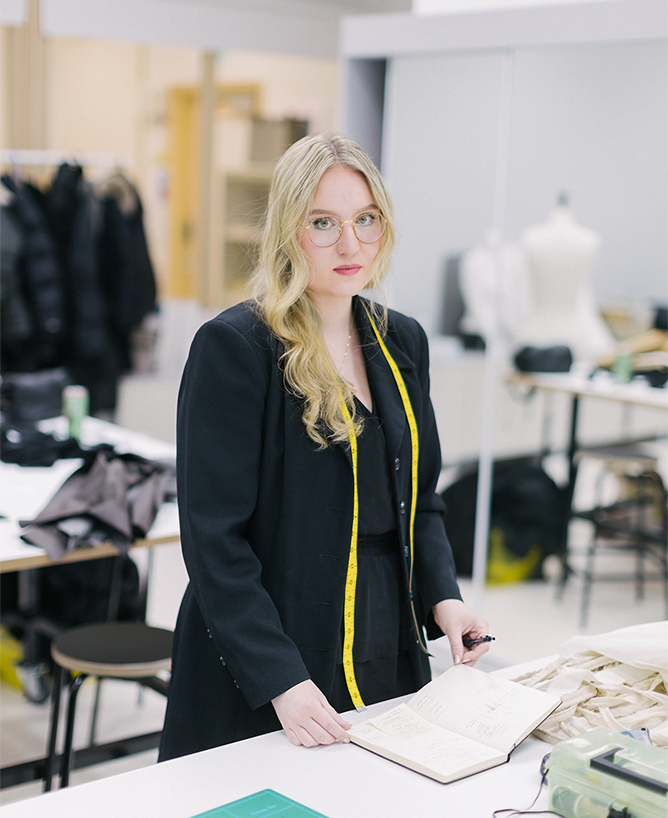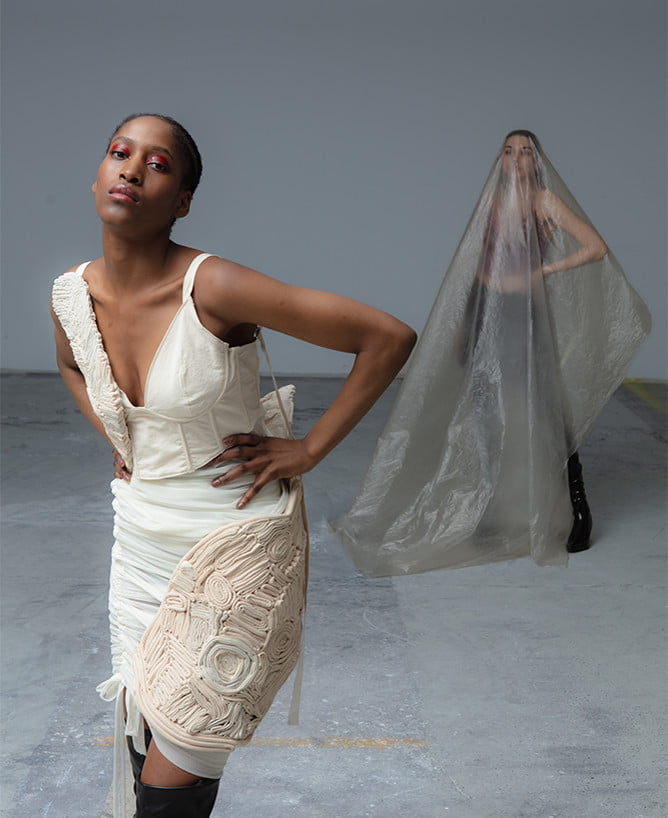 Julia Skippari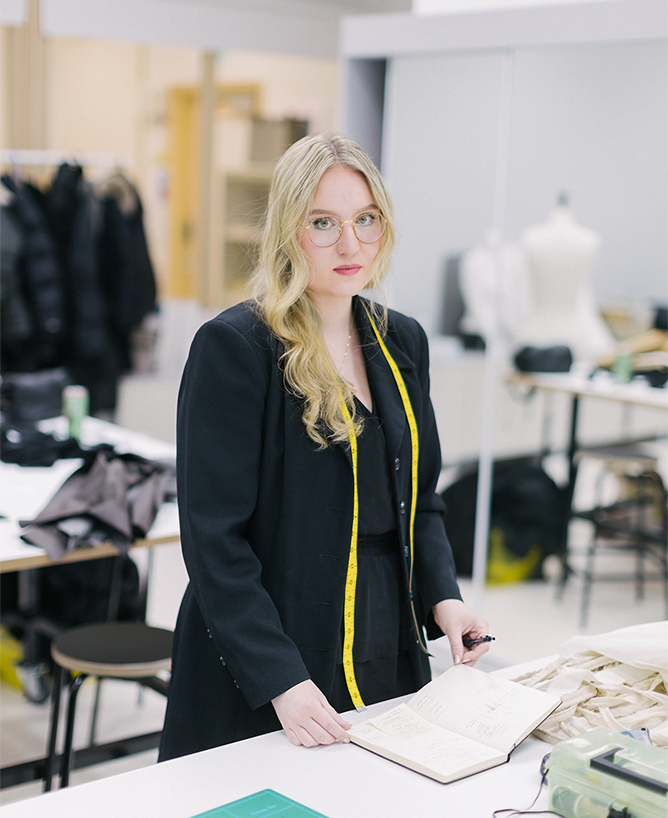 Julia Skippari
JuliaSkippari_editorial1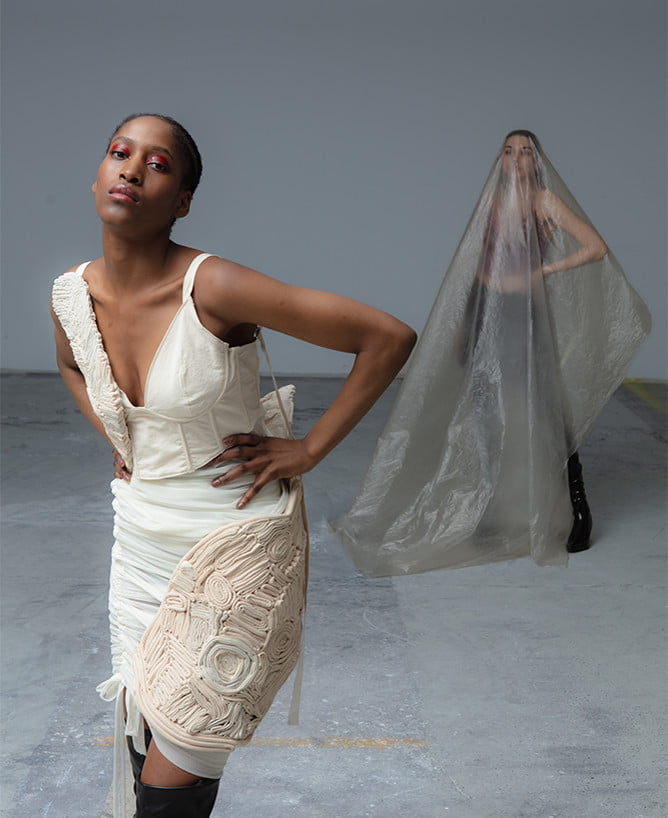 Julia Skippari
Neuroplastic
In her thesis, Julia Skippari explores how to make clothes from food plastic waste using material manipulation techniques, and thereby bring added value to the waste. For example, used plastic bottles and food packaging have been utilized as materials for the collection. The collection is inspired by plastic waste, especially how microplastics affect our bodies.
As a designer, contrasts, the combination of opposites, and the story behind the design are important to Julia. Her designs focus on the combination of light and heavy elements, details, and different textures. Her aim is to utilize as much as possible of the already existing materials via upcycling. Non-seasonality, longevity, and consideration for the environment are important values. Symbolism and storytelling fascinate Julia as a designer, and her goal is to create clothes with a story and a deep message behind them.
juliaskippari@gmail.com| @juliaskippari
Photographer:
Vili Thesleff
@vilithesleff
Hair & Makeup:
Jasmiina Walters
@jasmiinamua
Models:
Fashion Model Agency
@fashionmodelagencyfinland
Eveliina Vahter
@eveliinavahter
Sharon Elisha
@sharonsasha_
Pinja Antikainen
At the Mercy of Nature
Pinja Antikainen has created a clothing collection that explores how designers can use compostable materials to create a clothing collection, considering the order of priority. With innovative textiles, consumer consumption patterns are changing, as well as the way the material is produced. Equally important is the disposal of textile waste, highlighting each step of the value chain; material manufacturing, the production process, and choices as a consumer. The thesis maps how textiles are currently disposed of in Finland and how compostable textile material can be used in the design of a clothing model. The thesis has studied the environmental impact of compostable textiles and aims to convey the idea that compostable textiles can be long-lasting and sustainable.
The collection is inspired by the idea of a decomposing human body. This is a biological cycle and the different stages of it are reflected in the collection. Humans wither, decompose, and change their shape in the soil. Finally, the human spirit remains after the body has been transformed into soil.
The collection uses the conditions of the environment to shape the surface of the material. The materials have been at the mercy of sun, rain, and snow and buried in nature. With this, she wants to convey the message that a product stained and faded by nature can still be wearable, interesting, and valuable. She wants to raise awareness of the life cycle of clothing and how we can influence the longevity of a product through our own consumption.
We all need to understand the life cycle of a material, and that it is long-lasting and multi-staged. With it comes responsibilities as a wearer. The biological cycle gives hope that we can enjoy nature long after we are gone.
antikainen.juliaana@gmail.com| @juliaanaantikainen
In Collaboration: MASI Jeans
Photography: Mark Sergeev @markmvrk
Model: Pauliina komssi @pauliinakomssi
Model: Belsey Bushu @belseybushu
MUAH: Viivi Kuorikoski @viiu.makeup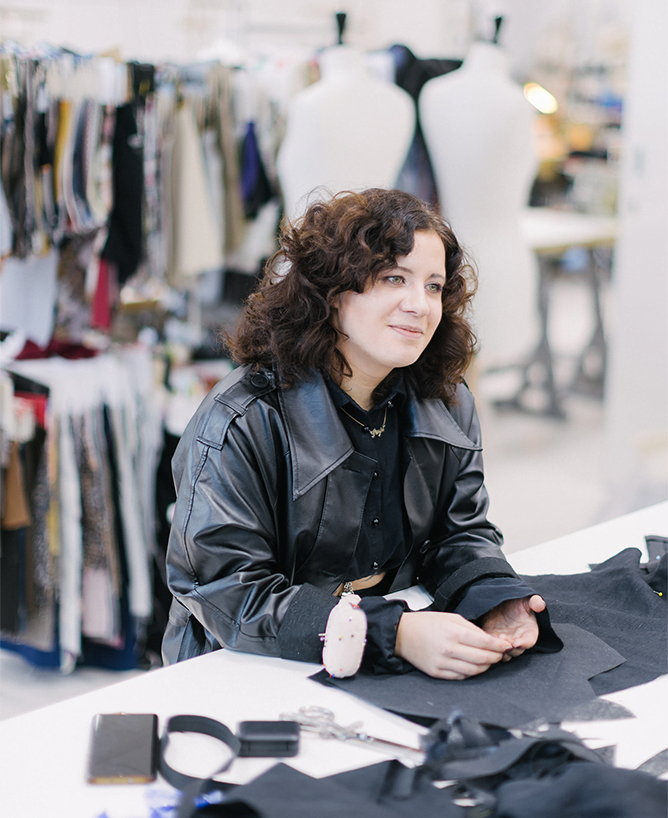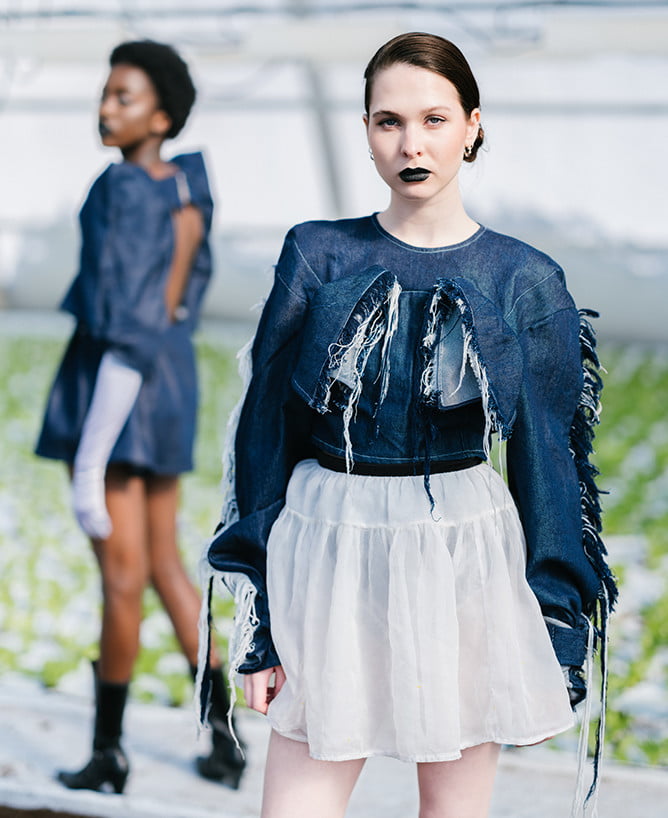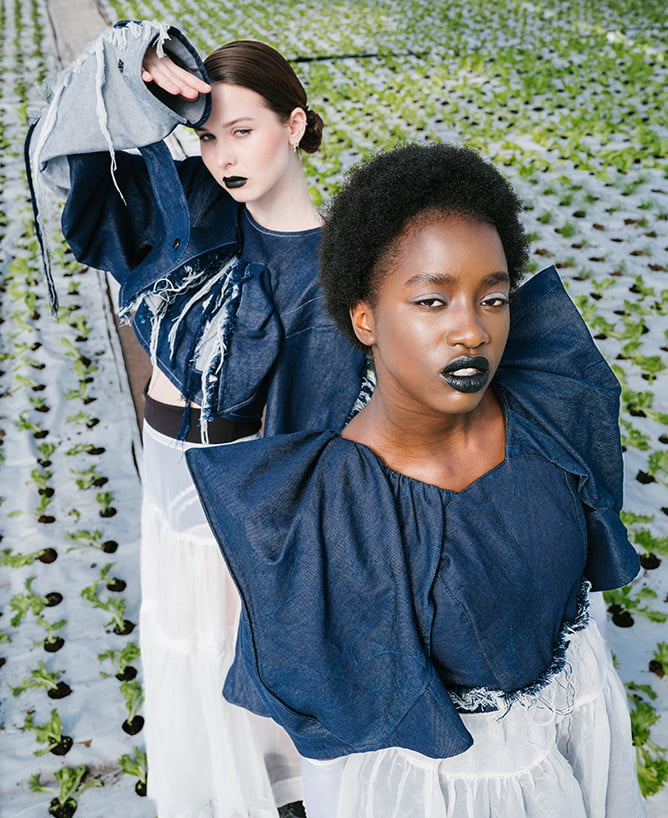 Pinja Antikainen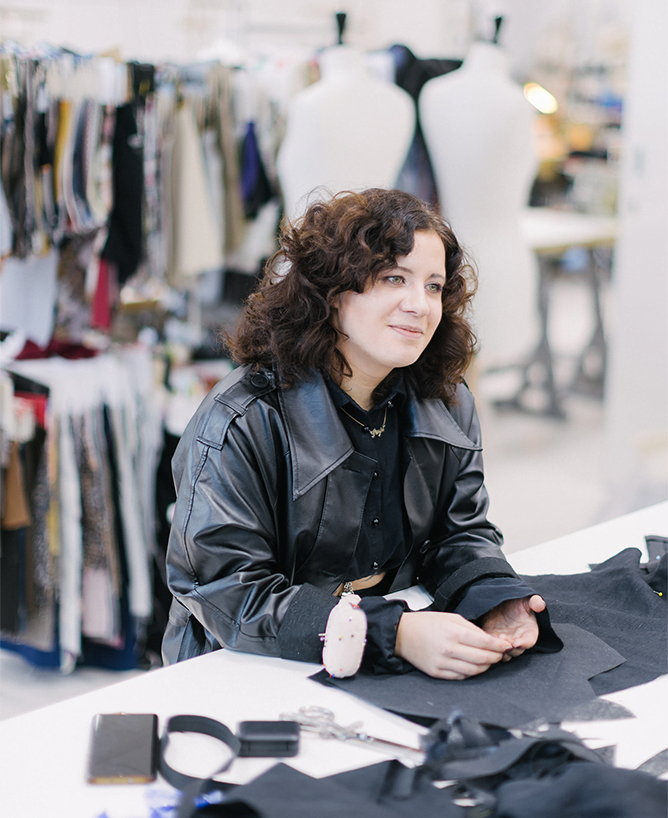 Pinja Antikainen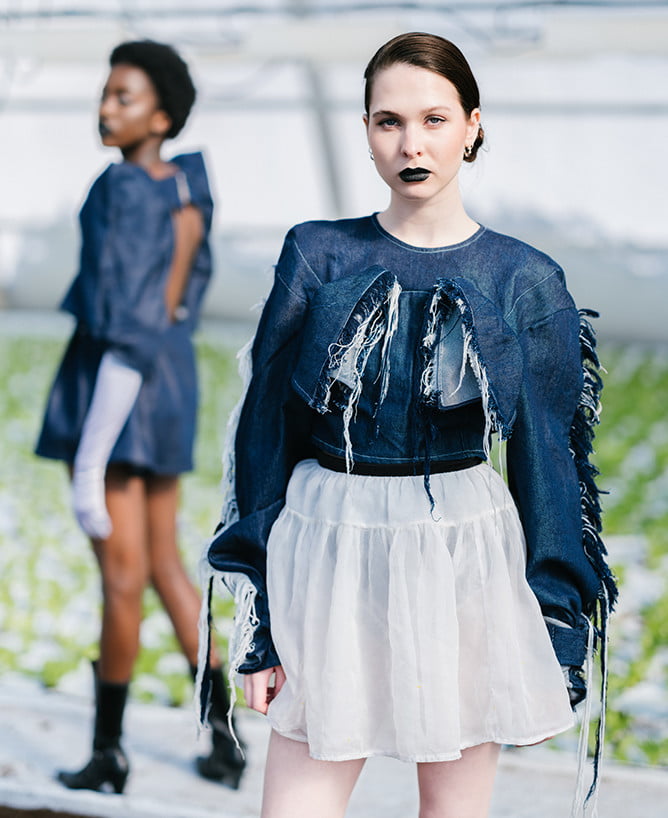 Pinja Antikainen_editorial1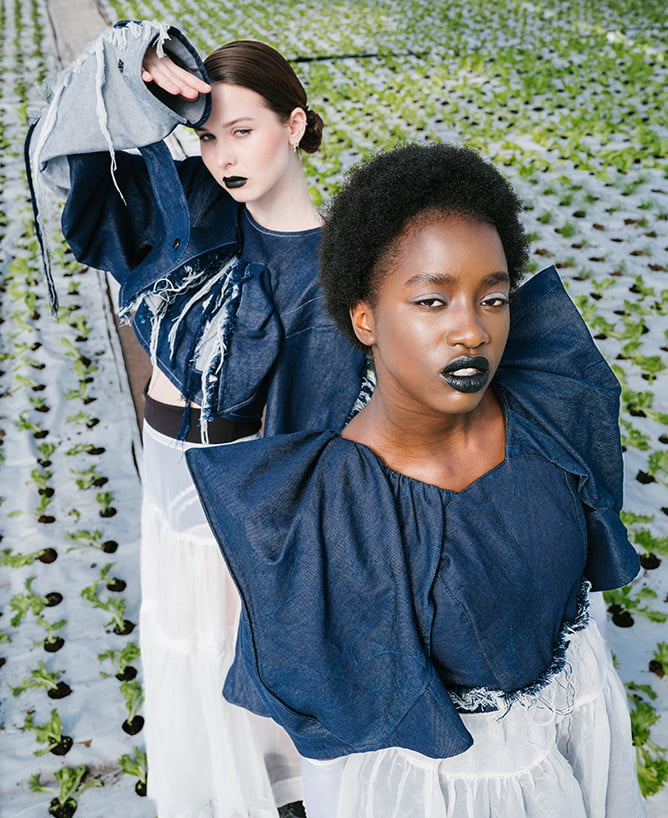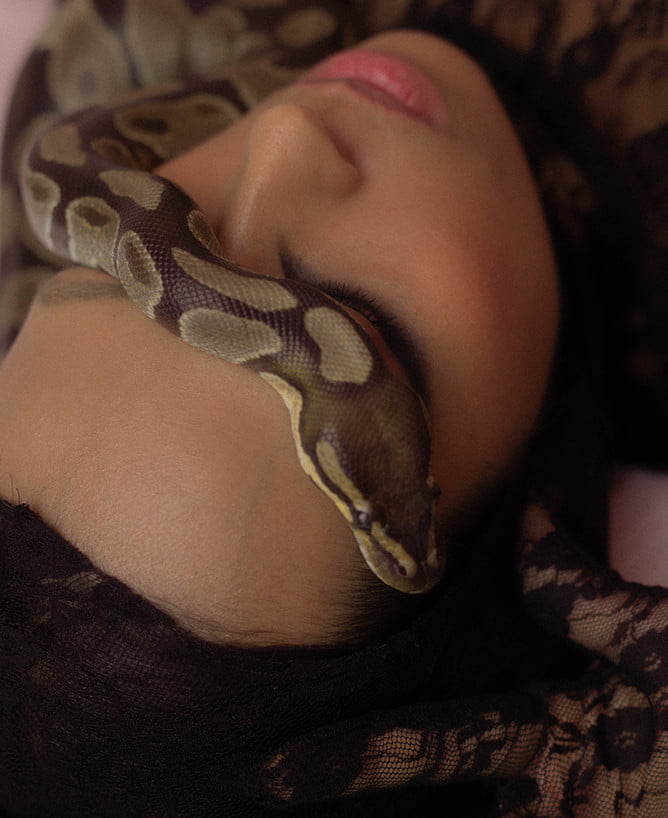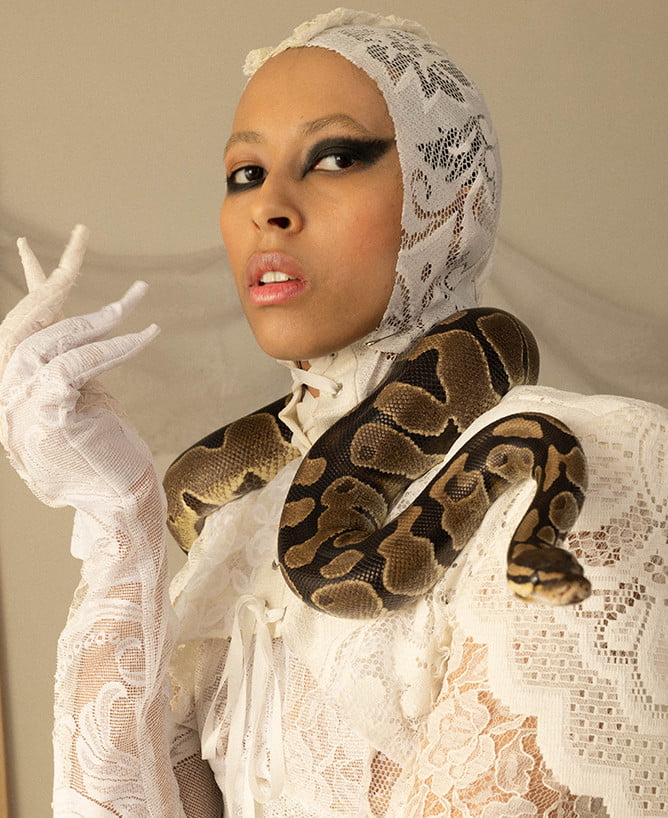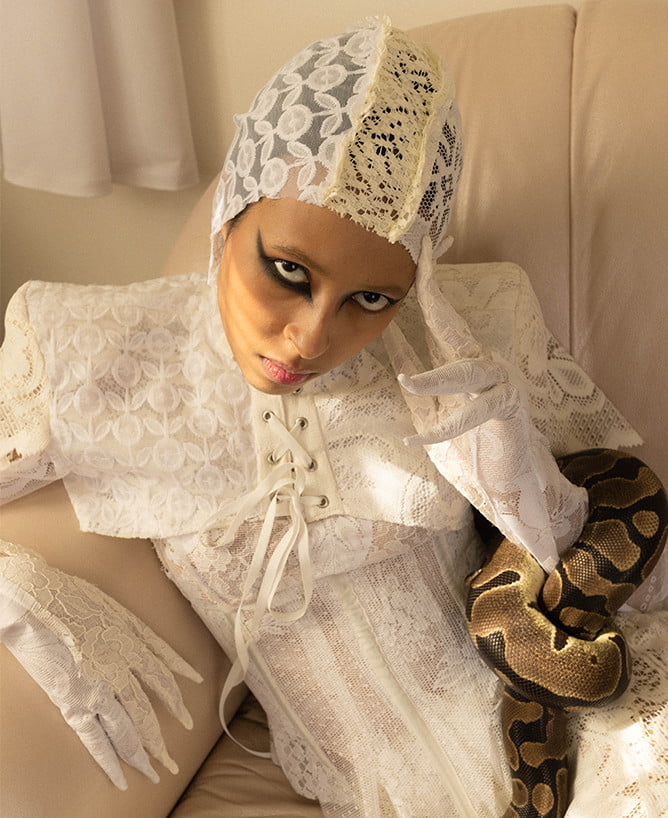 Aurora von Busch
Aurora von Busch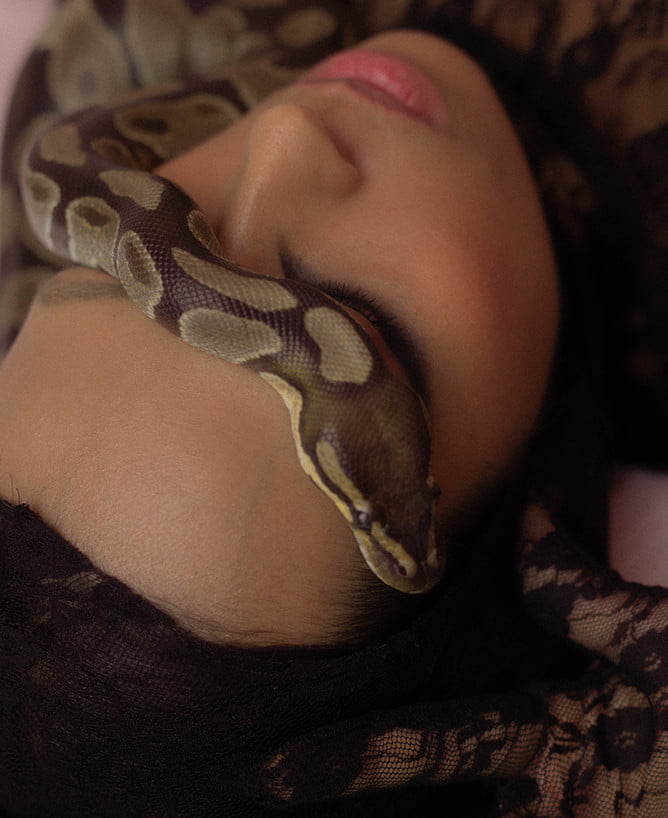 Aurora von Busch_editorial1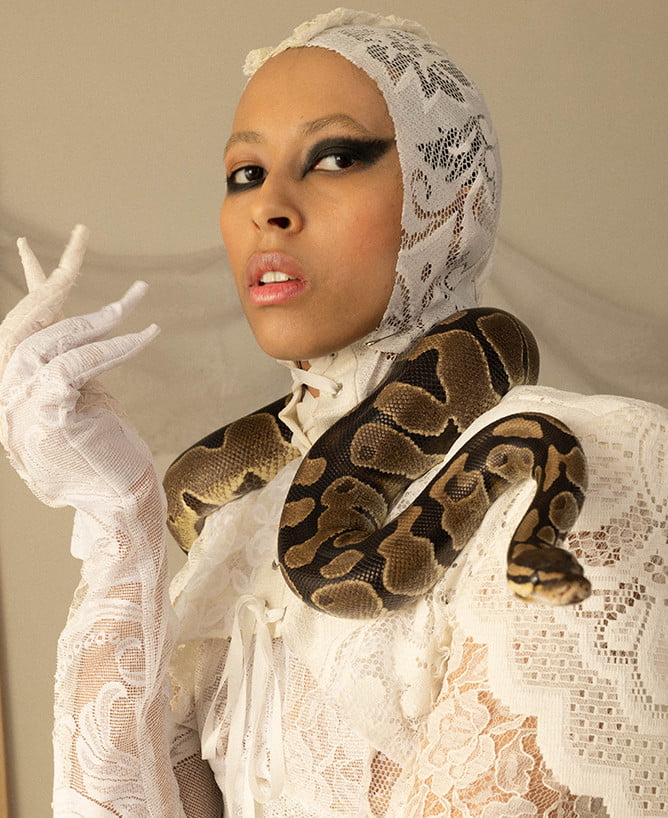 AuroraVonBusch-Editorial_3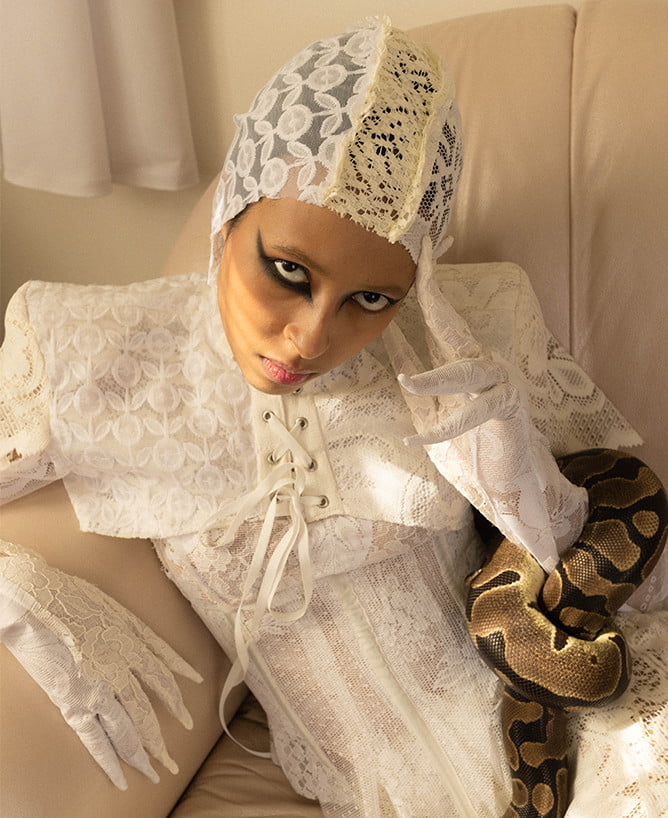 Aurora von Busch
Dominate
In her thesis collection Aurora von Busch explores the connection between fashion and the fetish community. Through closely examining the silhouettes and cultures of fetishwear, she highlights the similarities of these elements in current high fashion and mainstream culture. She explores the similarities in these categories through silhouettes, materials, and ideals. In her thesis, she especially focuses on the influence the fetish community has had on fashion.
While fetish culture has been taboo, it has been a major source of inspiration behind many collections, art and creative endeavours throughout history. Aurora finds it important to bring forward and highlight the fetish community, culture and aesthetic as a major inspiration source while respecting its origins.
As a designer, she has always been interested in alternative ways of expressing oneself and wants to bring this forward in her designs. While it's not the focal point in her work and comes as second nature for the designer, she has used only second-hand materials and cutting waste. The collection is especially inspired by the dominant/submissive -dynamic and focuses on the ways it can be shown through silhouettes and materials.
Photo: Salla Tammilehto @kisutl
Model: Maija Bryan @thegirlwithcurls
MUA: Eveliina Suotula @makeupbyeveliina
Vihaiina's design philosophy holds that aesthetic sustainability is the optimal way to achieve true sustainability. Even if clothing is made sustainably, if it is aesthetically unpleasing, it will not attract the interest of consumers. Vihaiina believes it is crucial that the clothes they design find users who genuinely want to wear them.
These thoughts formed the idea of the collection, which sought to blend various techniques of aesthetic sustainability design.
@vihaiina
Photo: Salla Tammilehto @kisutl
Models: Jianpeng Teng @yungrice
Inka-Eveliina K @inkaeveliinak
Muah: Jasmiina Walters @jasmiinamua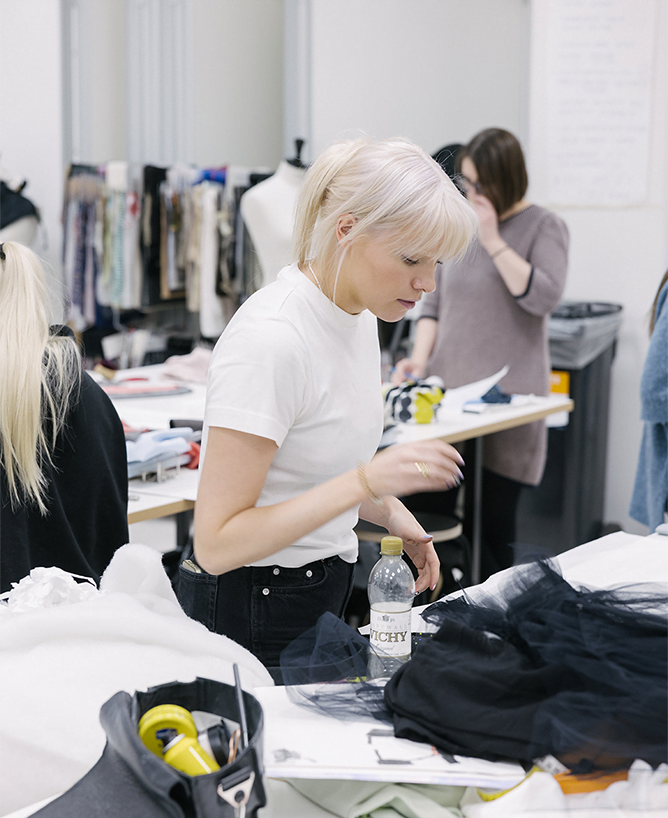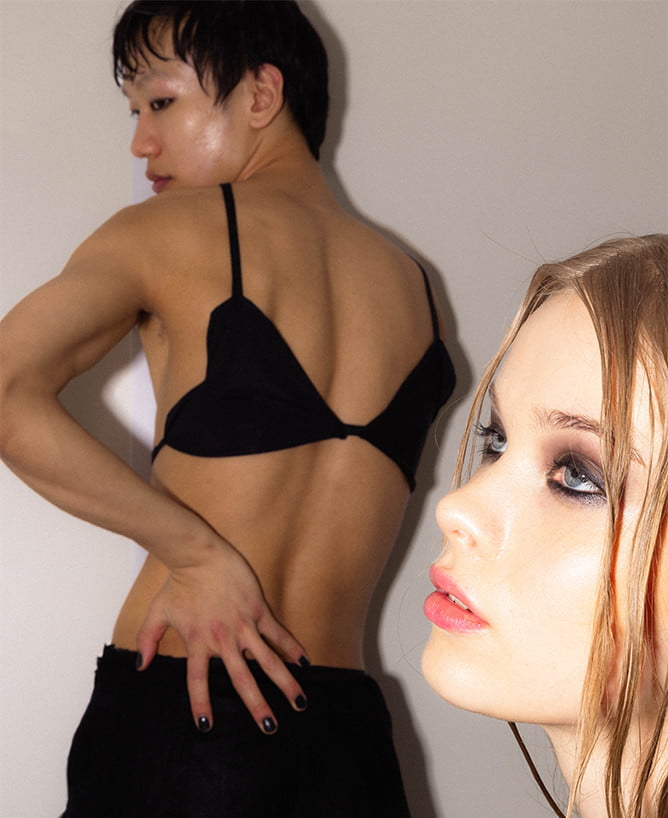 Iina Kujala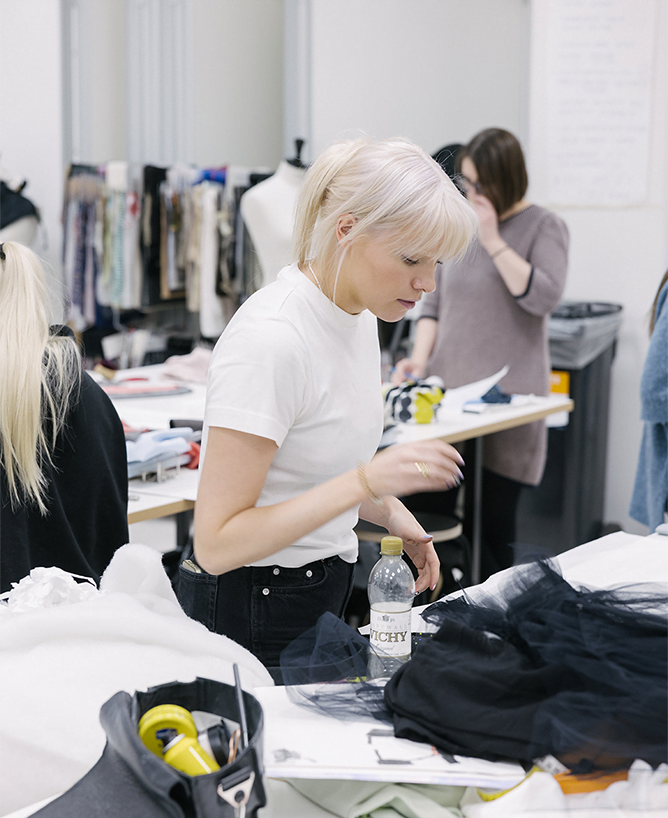 Pinja Antikainen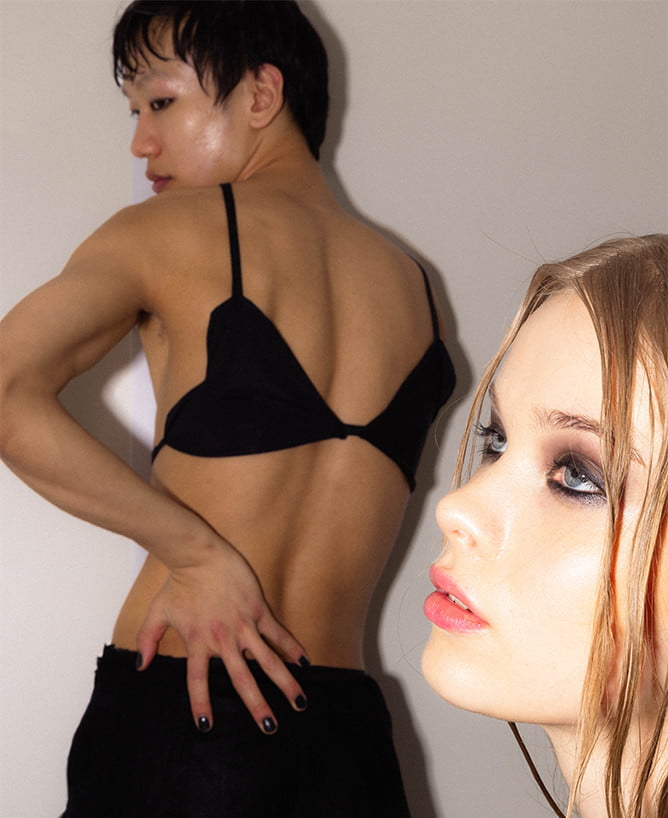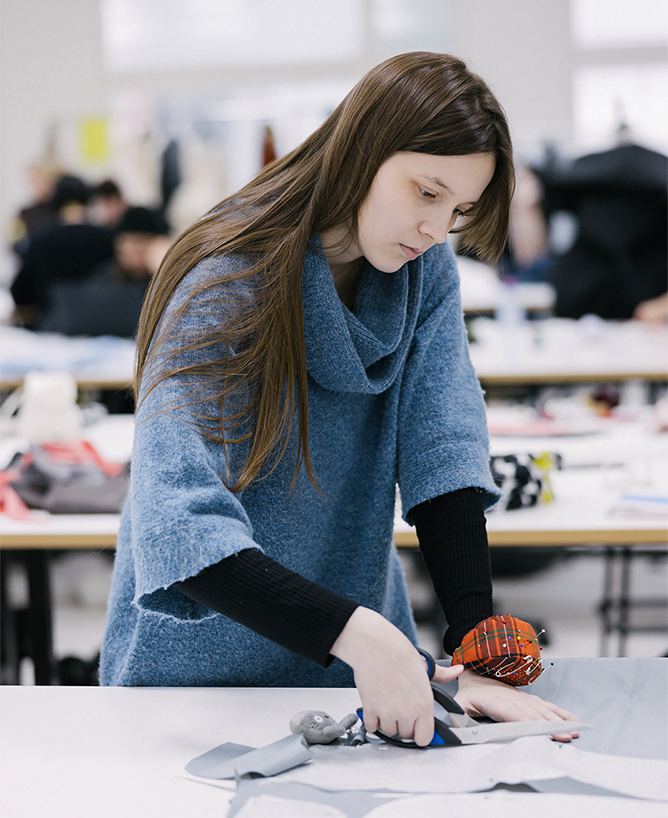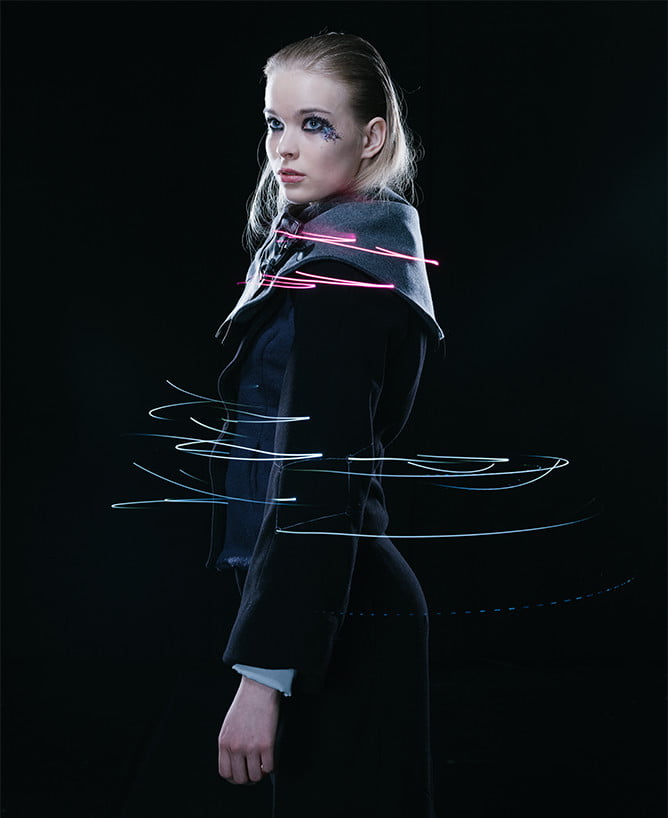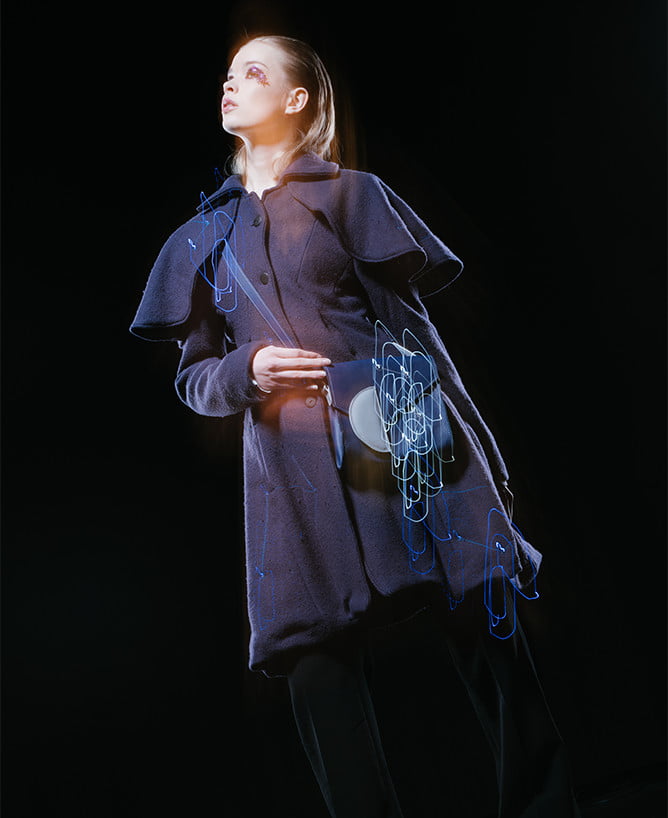 Jaana Korvensivu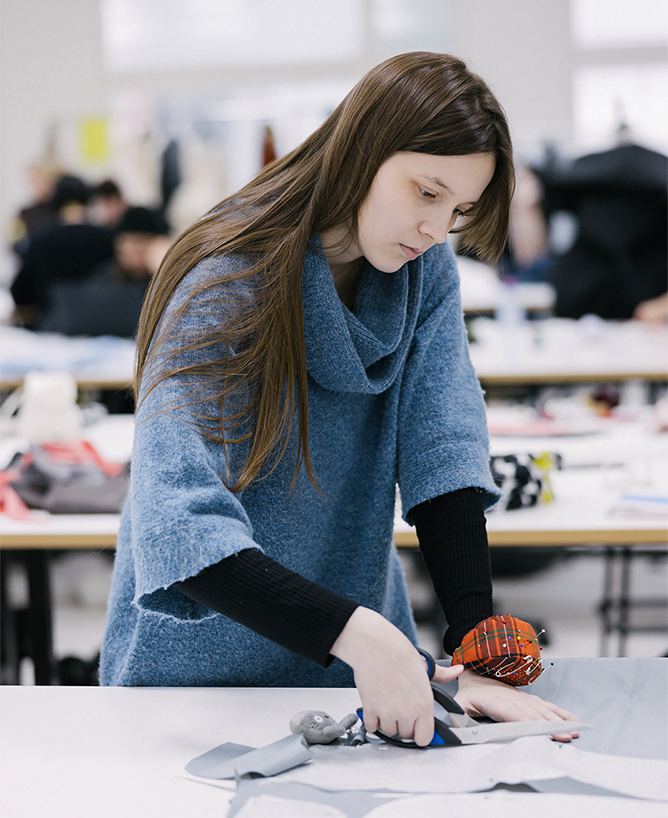 Jaana Korvensivu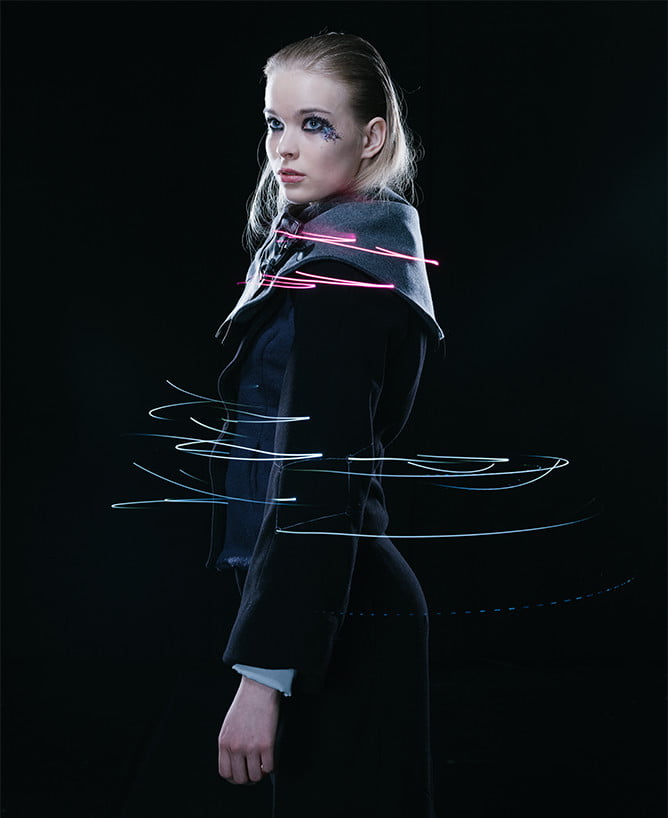 JaanaKorvensivu_editorial2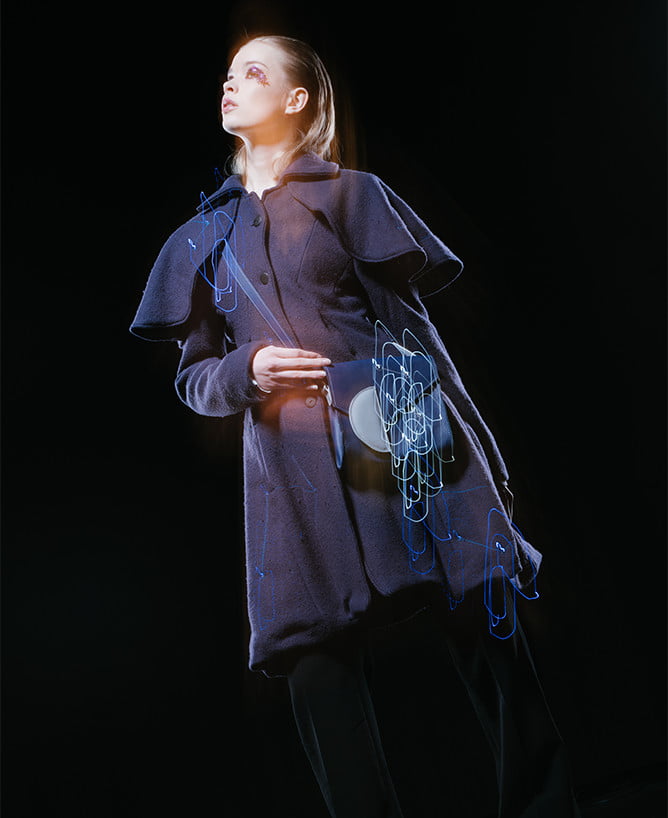 Jaana Korvensivu
Starlight
In her thesis, Jaana Korvensivu focuses on the use of electric light sources in clothing. As Finland's long and dark winter approaches, effective visibility is essential. Although the use of a reflector is usually reminded when the evenings get dark, its use is often forgotten. The thesis searches for an alternative solution alongside the conventional reflector, and how they can be combined with functional products effectively.
The collection's inspiration comes from the brightly sparkling star constellations in the night sky. Although stars are many light years away, they can still be seen with the naked eye shining brightly. By combining the LED lights with the products, the collection creates a walking star sky for the user, which sparkles and brings light to dark evenings.
The thesis studies how electric light sources can be used effectively in functional clothing. During the design process, it is important to consider the product's life cycle by selecting the best materials that are compatible with the technology. The main material for the clothing in the collection is wool because of its many useful attributes. The collection's accessories have been made in collaboration with Huhtadesign, and the main material is surplus leather from the furniture industry. The continuous development of technology creates new opportunities and challenges for their utilisation in clothing design.
Photo: Mark Sergeev @markmvrk
Model: Inka-Eveliina @inkaeveliinak
Muah: Jasmiina Walters @jasmiinamua
Mariia Paananen
Sweet Rain
As a designer, Mariia Paananen does not want to limit herself to any specific mould. She wants to develop herself by always experimenting with something new. Her values are sustainability, colours, shapes and experimenting.
The topic of the possibilities of embroidery in the upcycling method arose out of interest and appreciation for traditional handcrafting and the utilisation of existing materials.
In her collection, Mariia makes use of used home textiles and the surplus of textile production. In addition, the pearls used in the embroidery have mostly been found in recycling centers. With her collection, Mariia wants to overturn the hobby and tuning culture related to upcycling and embroidery and make it spectacular and beautiful. The collection is aimed at women for party or gala wear.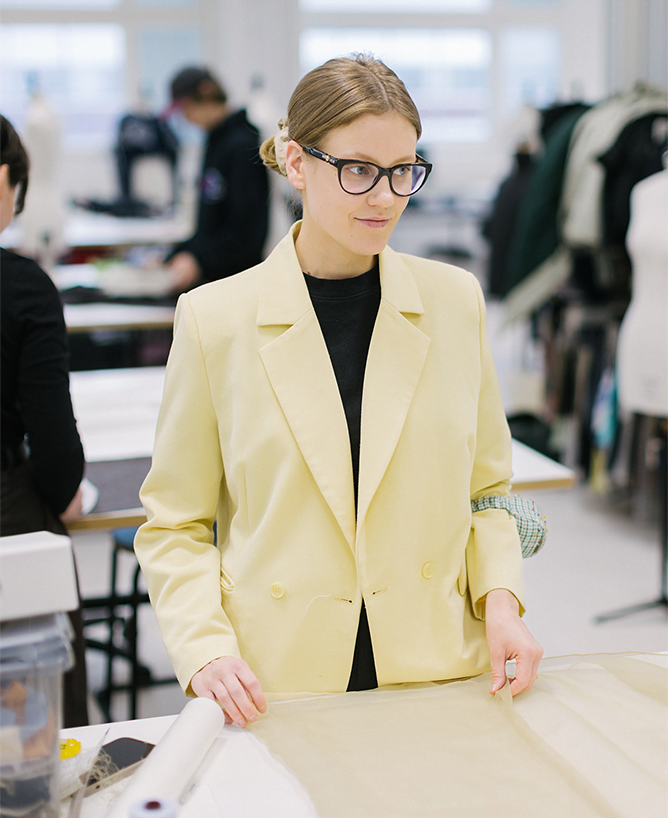 Mariia Paananen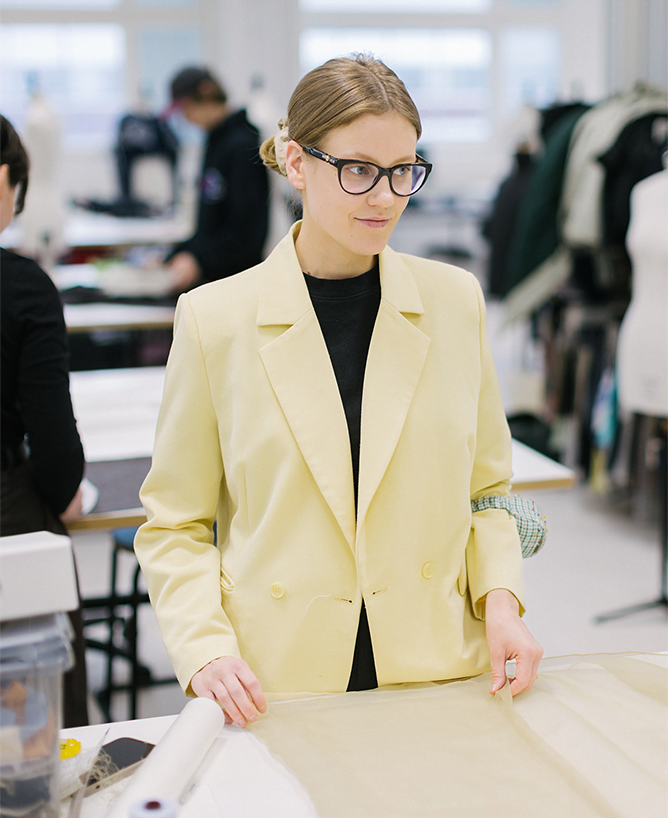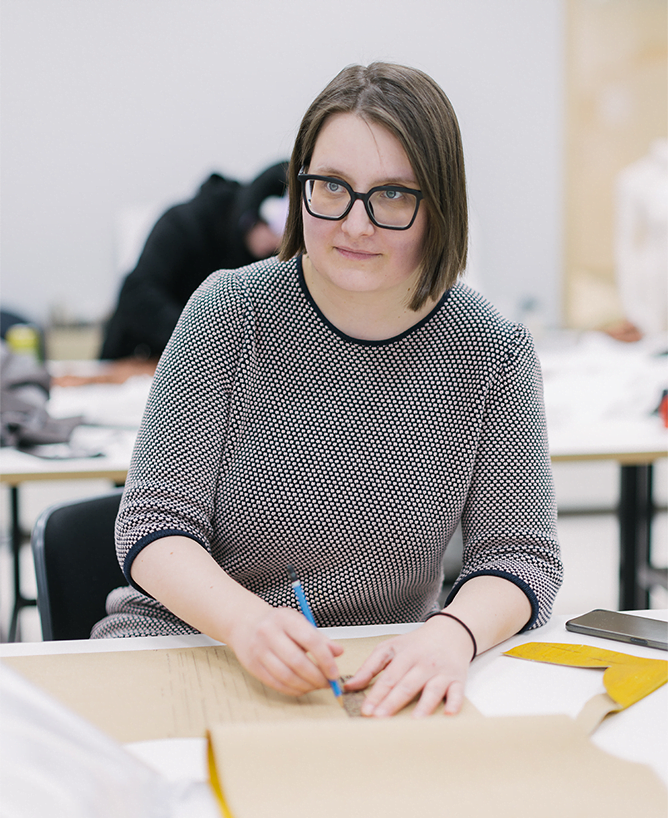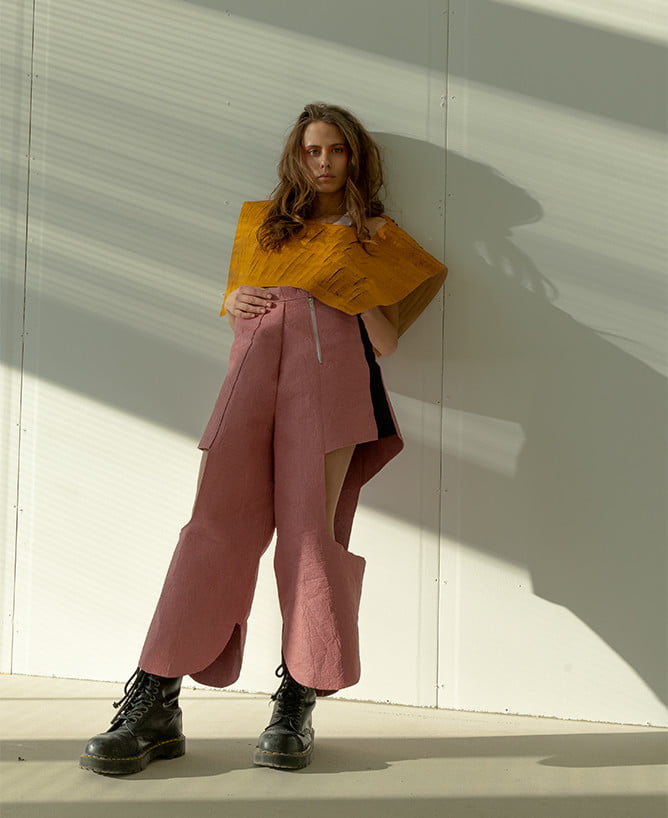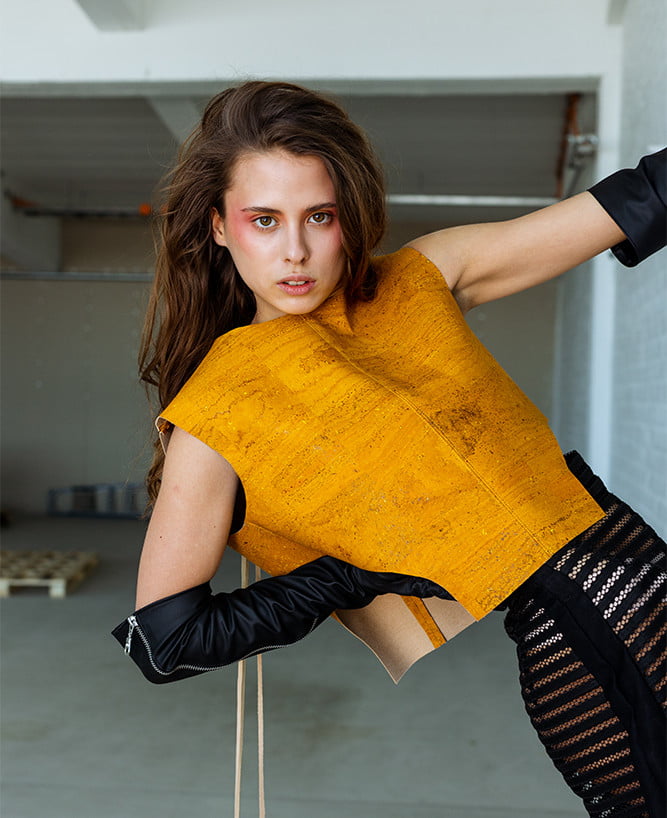 Mia Arvez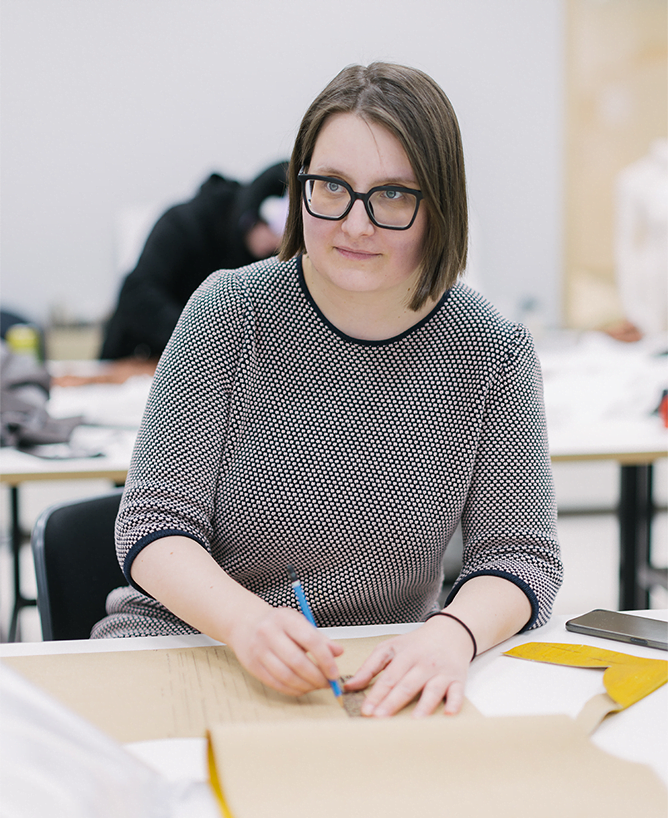 Mia Arvez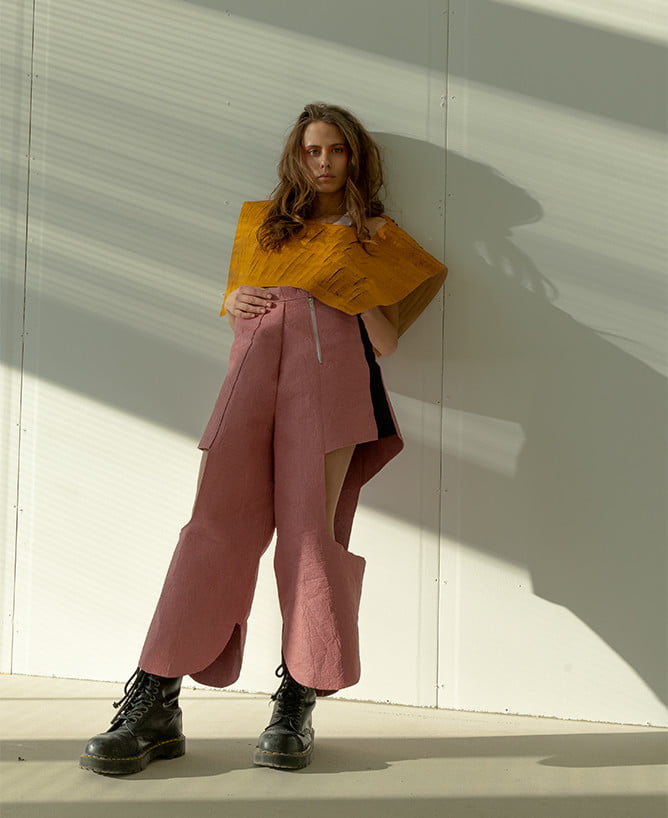 Mia Arvez_editorial2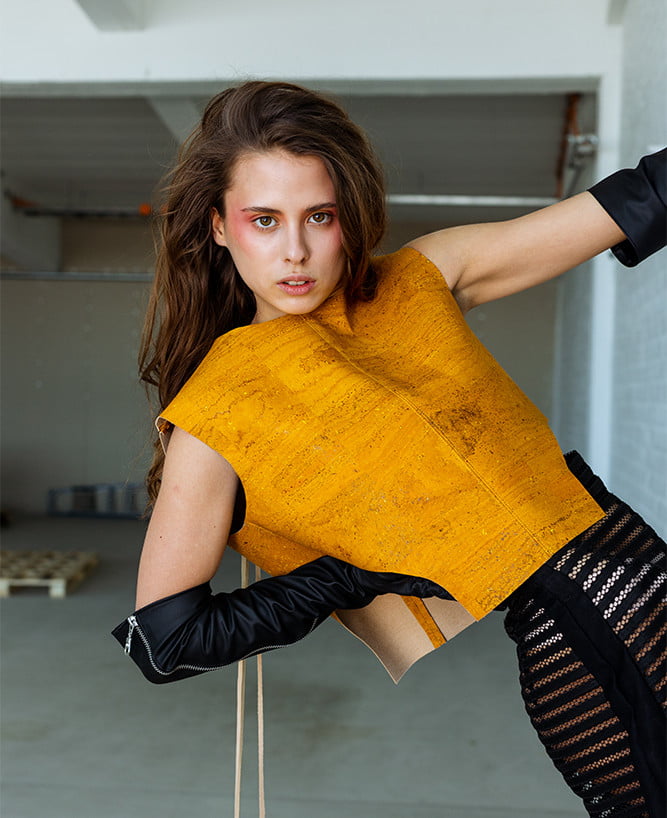 In her thesis, Mia Arvez examines different bio-based leather alternatives and how they can be used in clothes and accessories. The leather industry is one of the sectors of the clothing industry with significant emissions. She wants to see if there is a way to substitute leather with more sustainable materials. As a designer, Mia believes that the future of the fashion and clothing industry has to be slower and more sustainable.
Her collection is a material-based clothing collection. The main materials are bio-based leather alternatives. In her collection, Mia wanted to see how those materials work with clothes and accessories. Visual inspiration comes from 50's motorcycle fashion, where the main material has usually been animal leather. With the collection she wants to show that there are new materials and new ways to make clothes than what we have been used to.
As a designer, Mia is interested in exploring different materials and techniques. With her designs, she wants to bring confidence and a good feeling to the user. She also believes that fashion and dressing up should be fun.
Photo: Rita Topaloglu @gulenr
Model: Lumi Barrois @lumibarrois
Muah: Roosa Leino @roosalmakeup
Veera Laaksonen
From Snow and Ice
While doing her thesis, she wanted to return to her roots. This arose out of the interest and appreciation of traditional handcrafting and the utilization of existing materials. She has grown up surrounded by various handicrafts, as they have been passed through as a tradition in her family over generations. She wants to raise the value of traditional material modifying and manipulation methods by combining, for example, needle felting and knitting with jeans.
Her main material is used jeans, which workaday life she wants to break and turn upside down. She investigates how basic, even torn work jeans can be transformed into a fashion piece. Her aim is to utilize as much as possible the already existing material via upcycling and use the zero waste principle to make accessories and jewellery from the surplus.
Her collection "From Snow and Ice" combines masculine and feminine elements. She uses classic shapes with new perspectives inspired by the empowerment of nature, how the earth bursts into flower every year in the middle of all the frost and cold when spring comes. In this collection, she wants to create an alternative way to recycle used jeans, by creating a new life for them without consuming the environment more with chemicals but using traditional ways of processing the material without any waste. The old jeans can bloom again.
Photographer: Vili Thesleff @vilithesleff
Hair & Makeup: Jasmiina Walters @jasmiinamua
Models: Eveliina Vahter @eveliinavahter and Sharon Elisha @sharonsasha_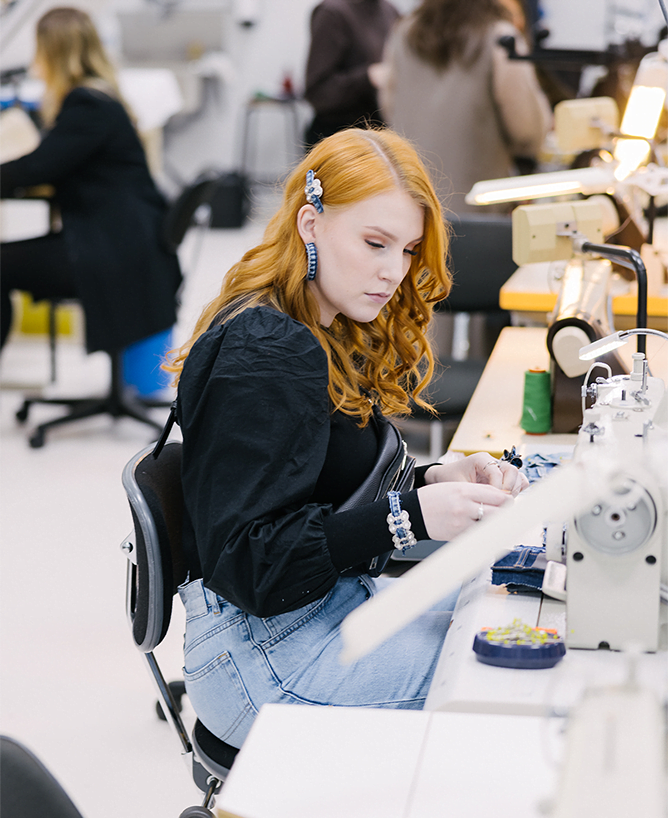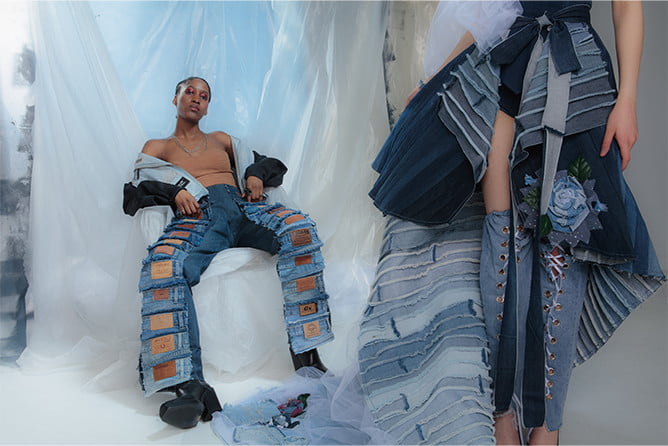 Veera Laaksonen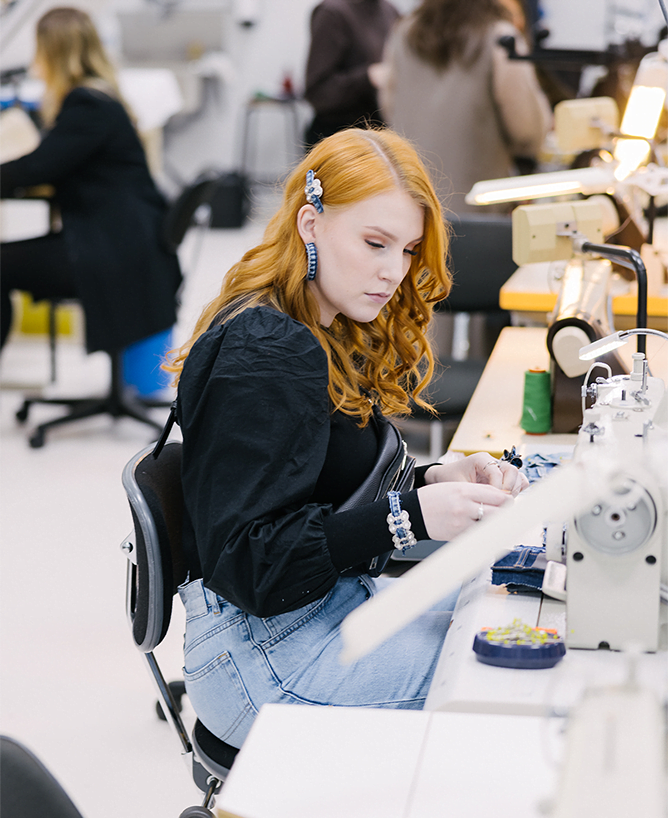 Veera Laaksonen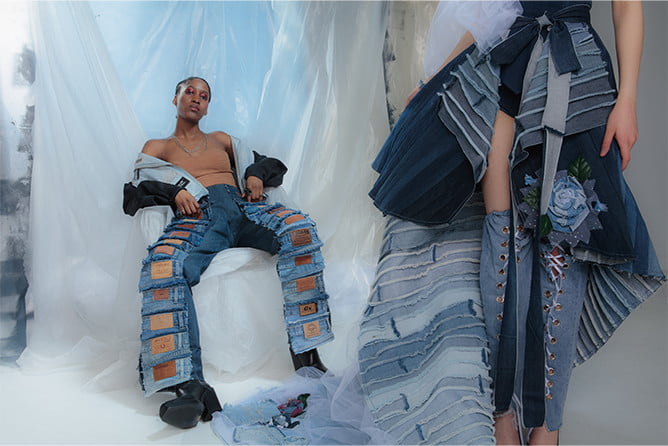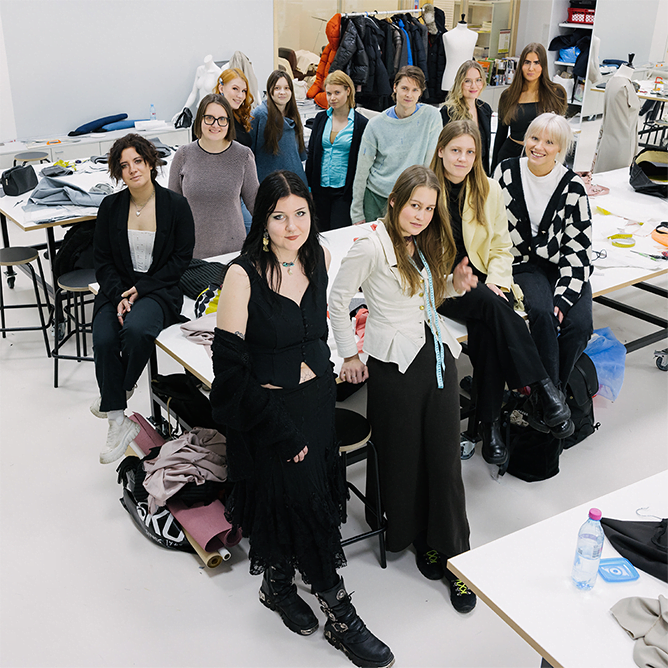 HANNA VUORELA
HILMA HEINONEN
JUUSO RANTALANKILA
IINA KUJALA
MARIIA PAANANEN
JAANA KORVENSIVU
SOFIA SKIPPARI
JULIA SKIPPARI
PINJA ANTIKAINEN
AURORA VON BUSCH
MIA ARVEZ
VEERA LAAKSONEN
AND NEEA HYTTINEN
Supporting Team
Event coordinator — Susanna Björklund
Photographer — Mark Sergeev
Video — Anton Kunnas, Rebekka Huomo and Mark Sergeev
Graphic designer — Henri Tevajärvi
Digital Development — Hash Varsani | Atelier Digital